5 Things you NEED to know about Ladies Night at St. Armands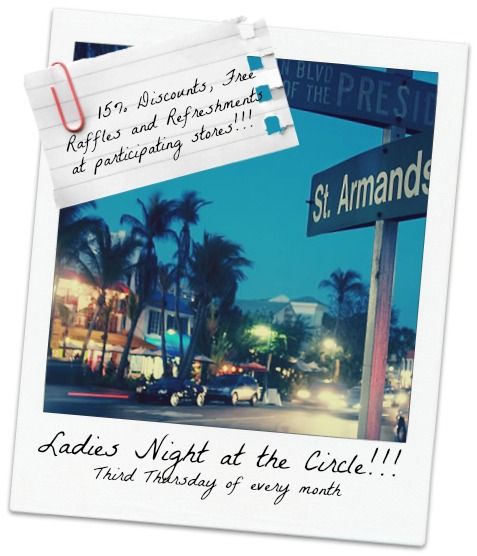 Every third Thursday ladies from all across the Sarasota area and beyond descend upon St. Armand's Circle. They come in search of great deals, delicious food and unique finds. In doing so, they also take part in something far greater than just your average "Ladies Night". They become part of a movement. A movement that helps local businesses and as such, the community thrive. Here are 5 things you should know about Ladies Night at St. Armand's....
1. Deals: Currently 26 business in the circle participate in Ladies night. Many of these participating stores offer 15% discounts (some restrictions apply). Some businesses also offer raffles, so be sure to visit ALL the businesses that support Ladies Night! Team Renick will be offering refreshments and a raffle so pop in and say hi!
2. Make a night of it: Many of the participating businesses offer refreshments and several of the circle's restaurants participate too, so grab a bite and shop, or shop and then unwind and grab a bite. Either way, you can make a night out of it!
3. Shop Local, Shop Small!! Shopping Local and Shopping Small keeps small, local businesses in BUSINESS! It is more than a movement, it is a necessity. By participating in events like Ladies Night you are helping support these businesses and as such the whole community. In addition to Ladies Night (every third Thursday) the shop small movement also has marked Saturday November 26th as Small Business Saturday....so come back out and keep supporting these local businesses.
4. What Stores are part of Ladies Night? Currently, there are 26 businesses that participate in Ladies Night. They will have balloons out front and a Ladies Night sticker in their window. See a shop you love that is not a participant? Pop in and tell them you would LOVE for them to join in. The more businesses that support Ladies Night, the better it will be! Stores that are interested in joining should reach out to Barb from JustBecause.
5. Unique Finds: The eclectic range of shops means you can find unique gifts, one of kind items and many items made locally. There is nothing cookie cutter about your shopping experience at St. Armands. With the holidays coming up, now is the perfect time to find something special!
Ladies Night takes place the third Thursday of every month from 5-9pm. Mark your calendars and make a monthly tradition with your friends and family and help support local businesses!