What's Happening in Sarasota, the Beaches and Beyond - April 5-7


It is our pleasure to bring you just a "slice" of what's available to do this coming weekend in the Sarasota, Bradenton, Lakewood Ranch and Venice area of Florida.
Music in the Park at the Riverwalk in Bradenton
Friday | 6:00 p.m. - 8:00 p.m.
Come support local music while watching the sunset over the Manatee River! Realize Bradenton's free, family-friendly, outdoor concert series is back with live music at downtown Bradenton's 400-seat Mosaic Amphitheater on the Riverwalk. Audience members are encouraged to bring a picnic basket, blankets or chairs, and their furry companions on leashes! Snacks, drinks, local craft beer, and wine will be available for purchase.

Music on Main at Lakewood Ranch
Friday | 6:00 p.m. - 9:00 p.m.
Join us on Lakewood Ranch Main Street from 6 – 9 pm for Music on Main, a free concert series and block party for the public! This event is hosted on the first Friday of each month and will supply lots of family fun. The street is lined with food vendors, beer trucks, and sponsor booths, as well as rides and activities for the kids presented by Grace Community Church. Proceeds from the event will benefit a local non-profit organization each event.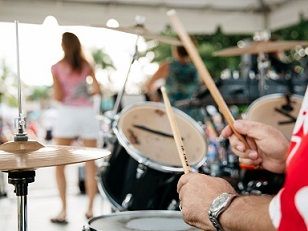 Sarasota Chalk Festival
Friday, Saturday & Sunday
The Sarasota Chalk Festival will perform for the first time in six years back at its original location in Burns Square, downtown Sarasota. Join us as some of the most talented pavement artists from around the world turn the streets into a 'Museum in Motion.'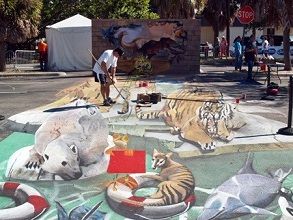 DeSoto Seafood Fest
Friday, Saturday & Sunday
DeSoto Seafood Festival has evolved over the 30 years to become the largest regional festival in Manatee County. After decades of fine-tuning, this event has become a 3-day festival comprising of Food, Music, Arts & Crafts and Family Fun that is hosted in the the Historic Sutton & Lamb Park in Palmetto, FL. In addition to the great Seafood and Music, the Heintz & Becker DeSoto Seafood Festival also offers many local artisans, commercial vendors, a Kid's Zone, and more!

Children's Book Fair and Family Fun Day
Saturday | 9:00 a.m. - 2:00 p.m
The fifth annual Children's Book Fair and Family Fun Day returns to the Bradenton Farmers' Market, Saturday, April 6, 9 a.m.–2 p.m., on Old Main Street, between Manatee Ave W and 3rd Ave W in downtown Bradenton. The free event features sixteen local children's authors reading their books at the Imagination Station, vegetable planting in take-home pots, a scavenger hunt, painting with artists from the Village of the Arts, and more.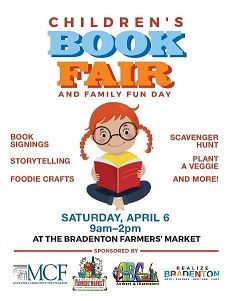 17th Annual Downtown Sarasota Art and Craft Festival
Saturday & Sunday | 10:00 a.m. - 5:00 p.m.
Sarasota, located along Florida's Gulf of Mexico is well known for its white sandy beaches and beautiful architecture. The city, boasting a diverse collection of shops, restaurants and entertainment, coupled with quaint charm, it's easy to see how Sarasota has become known as the place where, "urban amenities meet small-town living." Behold contemporary crafts from more than 100 of the nation's most talented artisans. A variety of jewelry, pottery, ceramics, photography, painting, clothing and much more - all handmade in America - will be on display, ranging from $15 to $3,000. An expansive Green Market with plants, orchids, exotic flora, handmade soaps, gourmet spices and freshly popped kettle corn further compliments the weekend, blending nature with nurture.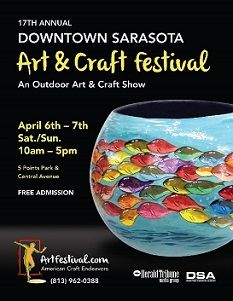 4th annual Lido Beach Spring Fine Art Festival
Saturday & Sunday | 10:00 a.m. - 5:00 p.m.
Come experience ART in all its wondrous manifestations at the 4th Annual Lido Beach Spring Fine Art Festival on April 6-7, 2019. Join us to discover original, handmade art that will beautify your home and workplace, and each day enrich your life. The event is graciously hosted by the Humane Society of Sarasota County and held at Lido Beach on Lido Key, Sarasota. Admission is FREE.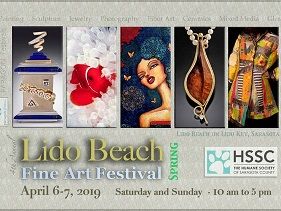 Around the World in 88 Keys at The Players Centre for Performing Arts
Friday | 7:30 p.m.
Powerful piano renditions, soaring vocals and dazzling, fun-filled dueling piano pieces highlight this one-of-a-kind piano team backed up by bass and drums. This act has been thrilling audiences throughout the Southeast for over five years with their unique creativity and delightful audience rapport. The experience for the audience? Musical virtuosity, pure excitement and intoxicating joy- with hints of Victor Borge.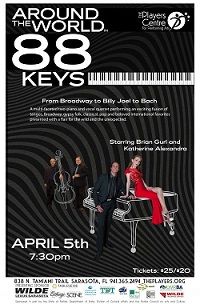 Wednesday's Child at the Florida Studio Theatre
Friday, Saturday & Sunday
Susan and Martin Merrit are unable to have a child on their own, so they hire Becca Connor to serve as a surrogate. When Becca is found dead, a police investigation explodes the lives of everyone who knew her. As Detectives Valez and Dixon begin to put the pieces together, secrets surface, alibis weaken, and lies are uncovered. This dramatic new play explores motherhood, passion, and the thin line between right and wrong.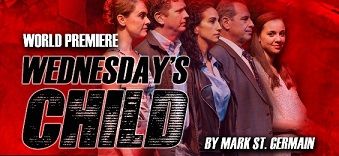 Sunday Polo at the Sarasota Polo Club
Sunday | 1:00 p.m.
Every Sunday afternoon at 1pm, we welcome the public to bring out their picnic baskets and enjoy the thrill of the "fastest game on four feet." With Clydesdale wagon rides, exciting action, food and beverage, tailgating, half-time entertainment, divot stomping and plenty of fresh air, Sunday polo is the perfect place for a family outing; dogs are even welcome on a leash.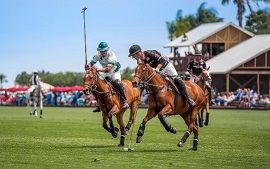 Bradenton Farmers' Market
Saturday | 9:00 a.m. - 2:00 p.m.
The Bradenton Farmers' Market is a place where the community meets each week to enjoy fresh produce, local art, upbeat music, demonstrations by local chefs, and family activities. Parking is free on weekends, and dogs on leashes are always welcome.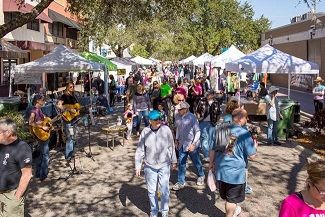 Clybourne Park at the Manatee Performing Arts Center
Friday, Saturday & Sunday
Clybourne Park is a razor-sharp satire, written by Bruce Norris, as a spin-off of the play A Raisin in the Sun and looks at the politics of race in two scenes set 50 years apart. The first scene is set before the events of A Raisin in the Sun, the famous play by Lorraine Hansberry, and the second scene after the events of Raisin. Set in 1959, a white couple moves out to the suburbs after the death of their son and sells their home to the neighborhood's first black family. Fifty years later, in 2009, the role reverses when a young white couple buys the lot in the now predominately black neighborhood, signaling a new wave of gentrification.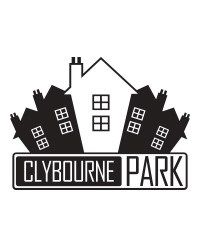 Please note: All of the information presented above has been gathered directly from the Sponsor's web pages. Team Renick is

proud to support our communities and the family activities that are available. Each picture is linked back to the original article which gives proper credit to the Sponsor and to allow you to gather even further information. It is our pleasure to provide this information to you each and every week!
We are proud to support our local communities!
If you would like to learn more, please
Reach out to Mike