What's Happening in Sarasota, the Beaches and Beyond - August 30-September 1


It is our pleasure to bring you just a "slice" of what's available to do this coming weekend in the Sarasota, Bradenton, Lakewood Ranch and Venice area of Florida.
SFF Cinematheque Presents 2001: A Space Odyssey

Saturday | 6:00 p.m.
This visionary masterpiece from the director Stanley Kubrick tells the story of how after discovering a mysterious artifact buried beneath the Lunar surface, mankind sets off on a quest to find its origins with help from intelligent supercomputer H.A.L. 9000. Based on the stories of Arthur C. Clarke.

Downtown Venice Labor Day Weekend Craft Festival

Saturday & Sunday | 10:00 a.m. - 4:00 p.m.
The 11th Annual Downtown Venice Craft Festival returns to Florida's west coast for a 2-day celebration of affordable art and unique crafts. Located in downtown Venice, this vibrant town on the Gulf of Mexico creates an ideal environment for a weekend craft show. Now is your chance to buy a wide variety of ceramics, jewelry, stained glass, metal works and much more. Our Green Market offers live flora, freshly popped kettle corn, gourmet spices, and sauces. Come meet and visit with some of the nation's best crafters, as you stroll beautiful Venice.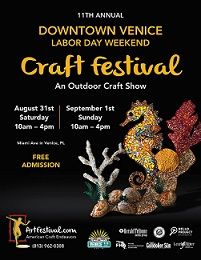 FST Improv: Comedy Lottery

Saturday | 7:30 p.m.
Join the cast of FST Improv for a show that you help make up on the spot…literally! Before every show, 12 lucky audience members will be asked to randomly select out of the FST Improv infamous bucket of over 50 games. Those 12 games will comprise the lineup for that night which will feature a unique combination of scenes, sketches and songs selected by you and your peers! Regardless of how the ball bounces, everyone is promised to be a winner on this completely unique night of improvised comedy.

The Swingaroos: Hollywood Serenade
Friday | 6:00 p.m. & 9:00 p.m.
Back by popular demand, The Swingaroos return to FST with a brand new show. Inspired by the Golden Age of Hollywood, this jazzy music revue pays tribute to such icons as Frank Sinatra, Cab Calloway, and Fred Astaire. Travel back in time this summer to the '30s and '40s when big bands and swing dancing were all the rage. Featuring songs like "At Last," "The Joint is Really Jumpin' Down at Carnegie Hall," and "Hooray for Hollywood."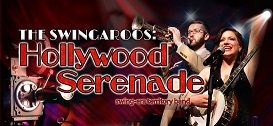 Please note: All of the information presented above has been gathered directly from the Sponsor's web pages. Team Renick is

proud to support our communities and the family activities that are available. Each picture is linked back to the original article which gives proper credit to the Sponsor and to allow you to gather even further information. It is our pleasure to provide this information to you each and every week!
We are proud to support our local communities!
If you would like to learn more, please
Reach out to Mike