What's Happening in Sarasota, the Beaches and Beyond - March 22-24


It is our pleasure to bring you just a "slice" of what's available to do this coming weekend in the Sarasota, Bradenton, Lakewood Ranch and Venice area of Florida.
Music in the Park
Friday | 6:00 p.m. - 8:00 p.m.
The music is back! Downtown Bradenton's 400-seat Mosaic Amphitheater on the Bradenton Riverwalk becomes the beautiful backdrop once again for inspired live music when Realize Bradenton's popular "Music in the Park" series. Local craft beer and other beverages and snacks will be available for purchase. Audience members are encouraged to bring picnic hampers, blankets and chairs—and their furry companions on leashes!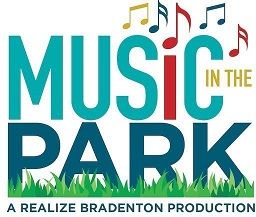 University Town Center Art Fair
Saturday & Sunday | 10:00 a.m. - 5:00 p.m.
The event will bring the nation's best artists to The Mall at University Town Center (UTC). Stroll amidst life-size sculptures, spectacular paintings, one-of-a-kind jewels, photography, ceramics, a separate craft festival and much more. No matter what you're looking for, you'll be sure to find it among the various array of artists and fine crafters participating in this fine art and craft festival.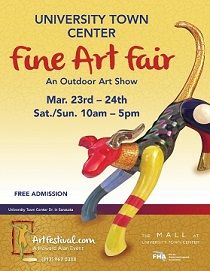 Joy of Jazz at Centennial Park
Sunday | 2:00 p.m. - 4:00 p.m.
Joy of Jazz is a FREE concert series co-sponsored by the Gulf Coast Community Foundation and the Jazz Club of Sarasota. Join us at the Gazebo in Centennial Park on Venice Ave in downtown Venice. Bring a chair or blanket for seating. The March 24 event at 2:00 pm features Tom Ellison and Hot Pocket. You will hear the music of the great composers of the America songbook and swinging jazz tunes. Tom on reeds and vocals is joined by pianist Judi Glover and others, TBA. An outdoor event for the entire family to enjoy, great music in a park like setting.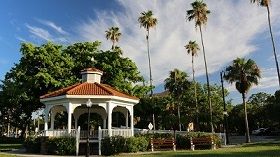 Ain't Misbehavin' at the Manatee Performing Arts Center
Friday, Saturday & Sunday
1930s Harlem. Named for Fats Waller's song by the same title, Ain't Misbehavin' is a musical tribute to the black musicians of the Harlem Renaissance and the new "swing" beat. Experience the jazz scene—uptown, downtown, raffish and startling beautiful atmosphere. Come, swing and jive to such songs as "I Can't Give You Anything But Love," "I'm Going To Sit Right Down and Write Myself a Letter," "The Joint is Jumpin'," and, of course, "Ain't Misbehavin'."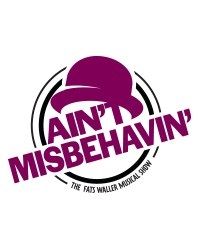 KidSpace
Saturday | 10:30 a.m.
KidSpace is a program for kids who want to explore everything there is to know about space and become Masters of the Universe. At 10:30 a.m. on the second and fourth Saturday morning of each month, we'll unleash the awesome power of the Bishop Planetarium, taking off from Earth's surface and flying to places no human has gone before: the Sun, the planets, other moons of our solar system, newly discovered solar systems in our galaxy and beyond.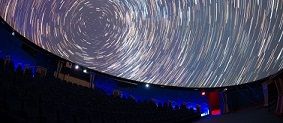 Bradenton Blues Brunch
Sunday | 11:00 a.m. - 1:00 p.m.
Join us on the beautiful Bradenton Riverwalk the last Sunday of each month for our music series, the Bradenton Blues Brunch! Guests will enjoy live music Mattison's City Grille Brunch Menu featuring local and sustainable cuisine. Each month a new band will perform, so don't miss a beat! There is no cover charge for the music, simply order your brunch and drinks off the menu.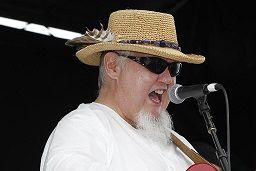 Mozart & Mahler at The Venice Symphony
Friday, Saturday & Sunday
Mozart's exhilarating Symphony No. 41, (Jupiter), is the composer's final symphony and considered by many to be among the greatest works in classical music. The second half of the concert is dedicated to Gustav Mahler's Symphony no. 1, D Major (Titan) "One of the most spellbinding moments of symphonic inspiration in the 19th Century."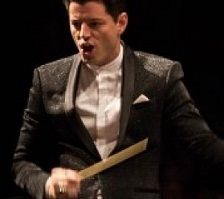 Spanish Point Full Moon Ghost Tour
Friday | 8:00 p.m.
Come explore Historic Spanish Point in the moonlight! Every month on the Friday closest to the full moon, we will have our Full Moon Walking Ghost Tour. This unique storytelling tour will take you on a walk among historic houses, prehistoric mounds, and our pioneer cemetery while you hear the ghost stories and tales of mystery about Sarasota and Florida that you will not hear during our daylight tours!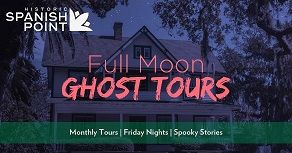 King's Gate Club Flea Market
Saturday | 9:00 a.m. - 2:00 p.m.
Huge selection of quality, tested, clean items. Come for lunch and shop for small appliances, furniture, electronics, jewelry, tools, linens, coin medallions, coin collecting supplies, first day of issue stamps and more! Free parking and admission. Free golf cart taxi service to and from your car, brats, burgers, pie, bakery goods plus raffles and more!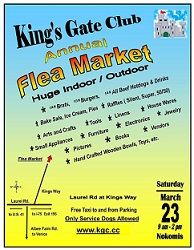 Pour'Em Another: World Tour
Saturday | 6:30 p.m.
You're invited to an amazing evening of craft cocktails as we celebrate in the Purim tradition. This one-of-a-kind event will be held at Michael's On East and will feature a chance auction, dinner by the bite and world-class bartenders mixing the night away. Tickets are limited, so purchase early to secure your sipping spot. It's tradition to wear your most colorful ensemble.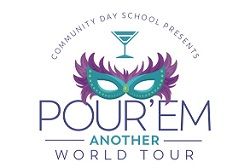 Sunday Polo at the Sarasota Polo Club
Sunday | 1:00 p.m.
Every Sunday afternoon at 1pm, we welcome the public to bring out their picnic baskets and enjoy the thrill of the "fastest game on four feet." With Clydesdale wagon rides, exciting action, food and beverage, tailgating, half-time entertainment, divot stomping and plenty of fresh air, Sunday polo is the perfect place for a family outing; dogs are even welcome on a leash.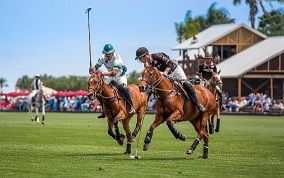 Please note: All of the information presented above has been gathered directly from the Sponsor's web pages. Team Renick is

proud to support our communities and the family activities that are available. Each picture is linked back to the original article which gives proper credit to the Sponsor and to allow you to gather even further information. It is our pleasure to provide this information to you each and every week!
We are proud to support our local communities!
If you would like to learn more, please
Reach out to Mike