What's Happening in Sarasota, the Beaches and Beyond - March 8-10


It is our pleasure to bring you just a "slice" of what's available to do this coming weekend in the Sarasota, Bradenton, Lakewood Ranch and Venice area of Florida.
More than a Movie: Shrek at The Ringling
Friday | 5:30 p.m. - 9:00 p.m.
Join us in the Museum of Art Courtyard for this immersive movie experience! SHREK will be projected on a large inflatable screen in the Courtyard. Before the movie, guests will enjoy music, activities, and decor inspired by the film. This family event is perfect for all ages. Popcorn, candy, and beverages will be available for purchase, including a cash bar and Sift Bakehouse will offer a variety of fun treats, including "Gingy" cookies.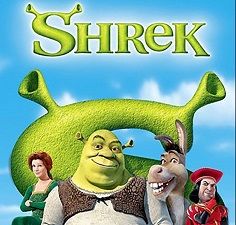 Music in the Park at the Riverwalk in Bradenton
Friday | 6:00 p.m. - 8:00 p.m.
Come support local music while watching the sunset over the Manatee River! Realize Bradenton's free, family-friendly, outdoor concert series is back with live music at downtown Bradenton's 400-seat Mosaic Amphitheater on the Riverwalk. Audience members are encouraged to bring a picnic basket, blankets or chairs, and their furry companions on leashes! Snacks, drinks, local craft beer, and wine will be available for purchase.

8th Annual Irish Celtic Festival
Saturday | 11:00 a.m. - 4:30 p.m.
It's true, we are all Irish on St. Patrick's Day, so it's the perfect time for you to enjoy our annual Irish Celtic Festival & Lucky Dog Parade! If you're of Celtic descent, you can show the newbies how it's done. We hope to see lots of WEARIN OF THE GREEN! We'll have plenty of traditional celtic food, craft beers, hard ciders and GREAT entertainment! The kids will have a blast too with our Community Activities "Pot of Gold" Scavenger Hunt, face painting, balloons, park fun and so much more! Gentlemen can enter our very popular 'BEST LEGS IN A KILT' Contest! Plus, there will be an opportunity to learn about all things Celtic by participating in mini demonstrations throughout the day. Make sure you stop by and enjoy all the artisan booths and say HI to our sponsors! Don't forget to bring your dog for the annual LUCKY DOG PARADE at 12:30. Awards will be given for dogs that are Most Irish, Cutest & Dog/Owner Look Alike. Proceeds for the parade benefit the Humane Society of LWR. We are also pleased to continue our Relay Race. Prizes will be awarded for winning: 1st Place, Last Place and Most Original Costume! See You There!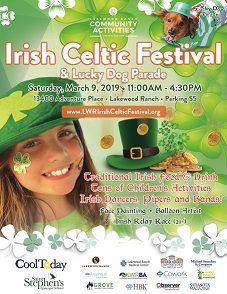 Berry Fest
Friday & Saturday | 10:00 a.m. - 4:00 p.m.
If you love our annual Pumpkin Festival Fruitville Grove, then come join us for our Berry Fest! We will have craft booths, face painting, a rock wall, bounce house, mini train rides, food, games, and our spring baby animals. Bring your family and your appetite for plenty of good eats! Make sure to save room for our yummy strawberry shortcakes, fresh strawberry milkshakes, homemade berry pastries, orange dreamsicle soft serve, hand-dipped blueberry cheesecake ice cream, organic strawberry lemonade, and kettle corn!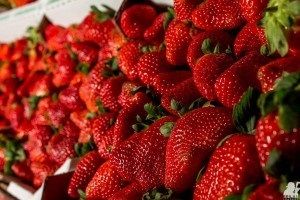 Art in the Park at University Park Country Club
Saturday & Sunday | 10:00 a.m. - 5:00 p.m.
Art in the Park, March 9-10, features the work of over 30 artists, many showing nationally and award winning under the canopy at the University Park Country Club. The public is welcome to this juried show and sale of fine art, from paintings and photography to sculpture. While there, enjoy lunch or a glass of wine at the Club.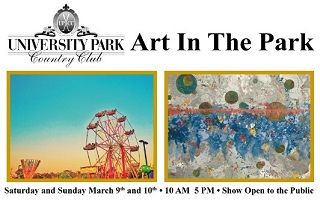 Live Music at Café in the Park
Friday | 7:00 p.m.
Located in Payne Park, downtown Sarasota, Café in the Park captures the spirit of the great tradition of the Urban Cafe Terrace. Conveniently located for the downtown community, stop in for a great coffee and a fantastic sandwich, seating inside or out - "al fresco", or on the go. We are now hosting a live music event showcasing original and creative acts, alternating every Friday.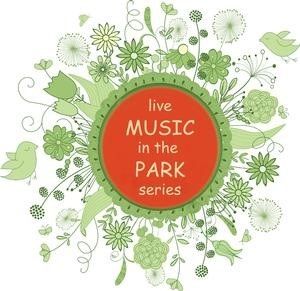 Bradenton Farmers' Market
Saturday | 9:00 a.m. - 2:00 p.m.
The Bradenton Farmers' Market is a place where the community meets each week to enjoy fresh produce, local art, upbeat music, demonstrations by local chefs, and family activities. Parking is free on weekends, and dogs on leashes are always welcome.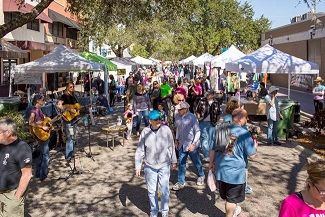 KidSpace
Saturday | 10:30 a.m. - 11:30 a.m.
KidSpace is a program for kids who want to explore everything there is to know about space and become Masters of the Universe. At 10:30 am on the second and fourth Saturday morning of each month, we'll unleash the awesome power of the Bishop Planetarium, taking off from Earth's surface and flying to places no human has gone before: the Sun, the planets, other moons of our solar system, newly discovered solar systems in our galaxy and beyond. KidSpace is designed for kids in elementary school (grades 1-5), and their grown-ups.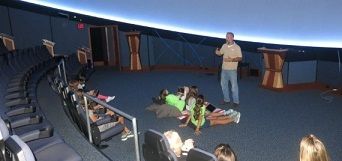 IQuest: Incredible Journeys
Saturday | 4:00 p.m. - 8:00 p.m.
IQuest is a monthly program for smart and curious middle school students in grades 6-8. While each IQuest is different, you can always expect challenging projects and games that inspire out-of-the-box solutions to real world problems. IQuest takes place on the second Saturday of most months from 4-8 pm.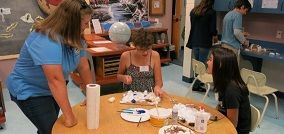 Please note: All of the information presented above has been gathered directly from the Sponsor's web pages. Team Renick is

proud to support our communities and the family activities that are available. Each picture is linked back to the original article which gives proper credit to the Sponsor and to allow you to gather even further information. It is our pleasure to provide this information to you each and every week!
We are proud to support our local communities!
If you would like to learn more, please
Reach out to Mike