What's Happening in Sarasota, the Beaches and Beyond - November 23-25


It is our pleasure to bring you just a "slice" of what's available to do this coming weekend in the Sarasota, Bradenton, Lakewood Ranch and Venice area of Florida.
Lakewood Ranch Seafood and Music Festival
Saturday & Sunday | 10:00 a.m.

Come to downtown Lakewood Ranch on November 24-25, 2018 for the 1st Annual Lakewood Ranch Seafood & Music Festival. Enjoy exquisite and delectable seafood dishes prepared by local restaurants using indigenous and sustainable ocean resources from Florida's coastal waters. Be entertained by top local and regional musicals groups performing live on stage in such genre as R&B, jazz, classical, calypso, big band sounds and Caribbean. Also enjoy a marketplace of crafts and fine products.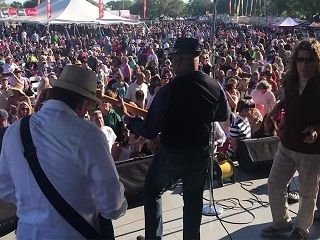 Deck the Halls
Saturday
A brand new rendition of everything that makes the holidays in Sarasota special. With all new songs and sketches, audiences should get ready to celebrate the holidays – Florida style – palm trees with decorations, swimming in the sea, sand snowmen, and more. Tis the season to deck the palms and join in on the fun at this interactive family show.

Bradenton Farmers' Market
Saturday | 9:00 a.m.
A place where the community meets each week to enjoy fresh produce, local art, upbeat music, demonstrations by local chefs, and family activities. Parking is free on weekends, and dogs on leashes are always welcome. The market sets up every Saturday on Old Main Street, just north of Manatee Avenue from the first weekend in October to the last week in May.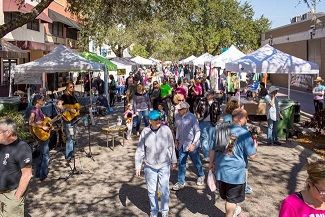 Bradenton Blues Brunch
Sunday | 11:00 a.m.
Join us on the beautiful Bradenton Riverwalk the last Sunday of each month for our new series, the Bradenton Blues Brunch! Guests will enjoy live music and the new Mattison's City Grille Brunch Menu, featuring local and sustainable cuisine. Each month a new band will perform, so don't miss a beat! There is no cover charge for the music, simply order your brunch and drinks off the menu.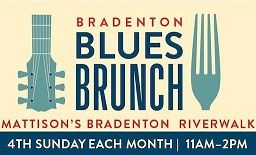 Siesta Key Light Up the Village Parade
Saturday | 5:00 p.m.
Enjoy the Christmas Tree at the Village Gazebo, Santa's arrival, live music, and other entertainment. The Village Holiday Parade will begin at Avenida del Mare and Beach Road at 5:30 p.m. traveling north on Beach Road onto Ocean Blvd. into the Village. Many businesses and local groups will be participating in the parade and the welcoming of Santa to Siesta Village. Santa will arrive at the Siesta Center at approximately 6:15 PM to greet all children. The first 250 children to see him will receive gift bags donated by Beach Bazaar. At Siesta Center, there will also be face painting and activities. Photos may be taken with Santa, free of charge. Free public transportation is provided courtesy of the Siesta Breeze Trolley from Turtle Beach to the Village (with multiple stops along the route, including Siesta Beach). Shops and restaurants will offer refreshments and special holiday bargains from 5 p.m. - 9 p.m. There will also be live music at various venues, plus carolers.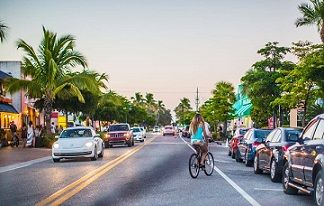 Venice Holiday Parade
Saturday | 6:00 p.m.
It's the kickoff to the Sun Coast's holiday season with The Venice Holiday Parade which traditionally takes place the Saturday evening after Thanksgiving. The 43 year tradition continues when the annual Parade steps off at 7 p.m. on the streets of Historic Downtown Venice. With over 3 thousand participants representing about 120 local companies, schools, churches, social organizations and music groups, this is one of the biggest Holiday Parades along the Suncoast.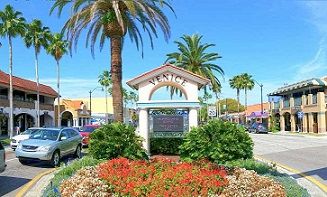 Unchained Melodies
Friday & Saturday
Under the streetlamps of East Coast cities, doo-wop emerged, bringing tight harmony to the soundtrack of the 1950s. Beginning with doo-wop groups like The Drifters and The Platters, "Unchained Melodies" celebrates the swingin' harmonies of the '50s and '60s. Featuring songs like "Blue Moon," "16 Candles," "Save The Last Dance," and "Working My Way Back To You."

A Gentleman's Guide to Love and Murder
Saturday & Sunday
A distant heir to a family fortune sets out to speed up the line of succession by using a great deal of charm…and a dash of murder. This Broadway hit is filled with unforgettable music, nonstop comedy, and a scene-stealing role for one actor who plays all eight of the doomed heirs. Can Monty Navarro, juggle his fiancé and his mistress, knock off all eight of the heirs without being caught, and become the ninth Earl of Highhurst? See this knock 'em dead TONY AWARD WINNER FOR BEST MUSICAL to find the answers.

Sarasota Honey Bee Tour
Friday & Saturday | 2:00 p.m.
Free Tour of Sarasota Honey Company that will discuss beekeeping in FL, benefits of the hive, agriculture, and what makes Sarasota Honey Co. unique. You will see some or our honey bees in their garden and taste some varieties of our local raw honey!!!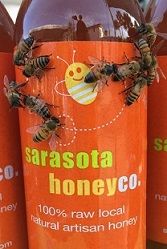 Please note: All of the information presented above has been gathered directly from the Sponsor's web pages. Team Renick is

proud to support our communities and the family activities that are available. Each picture is linked back to the original article which gives proper credit to the Sponsor and to allow you to gather even further information. It is our pleasure to provide this information to you each and every week!
We are proud to support our local communities!
If you would like to learn more, please
Reach out to Mike